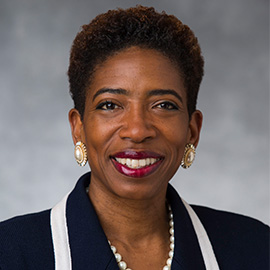 Carla Harris
Leader, Author, Singer
Carla Harris is a Vice Chairman, Managing Director and Senior Client Advisor at Morgan Stanley. She is responsible for increasing client connectivity and penetration to enhance revenue generation across the firm. She formerly headed the Emerging Manager Platform, the equity capital markets effort for the consumer and retail industries and was responsible for Equity Private Placements. In her 30 year career, Ms. Harris has had extensive industry experiences in the technology, media, retail, telecommunications, transportation, industrial, and healthcare sectors. In August 2013, Carla Harris was appointed by President Barack Obama to chair the National Women's Business Council.
Carla's passion lies in helping others. As she says, "we are blessed, so that we can be a blessing to others." While climbing the corporate ladder, Carla had her own personal missteps amidst numerous victories. She vowed that when she reached senior management and people came to her for advice, she would provide them with the tools, strategies, and pearls of wisdom honed by her own experience.
"Carla's Pearls" have become the centerpiece for her many speeches and television appearances. In Expect to Win, Carla shares these valuable lessons, including:
Authenticity: The Power is You
The 90-Day Rule
Perception is the Co-Pilot to Reality
The Mentor, The Sponsor, The Adviser: Having Them All
Leverage Your Voice
Balance is a Necessity: Use Your Passions to Achieve it
Expect to Win: Show Up With Your Best Self Every Day
Carla is an accomplished singer who has delighted audiences around the world with her soulful renditions of new and old gospel favorites. Starting young with a love of singing, she quickly migrated towards choral music and gospel choirs at age 13.
While at Harvard, Carla continued to pursue her music, singing with the world-renowned Radcliffe Chorale Society, the oldest women's singing group at Harvard, and in her own band Rhythm Company. She has performed four sold-out concerts at Carnegie Hall and released several albums (Carla's First Christmas, Joy is Waiting, Unceasing Praise).