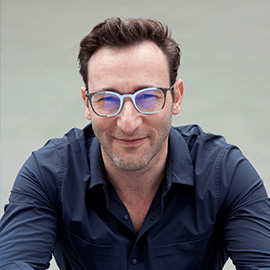 Simon Sinek
Author, Leader, Speaker
Simon Oliver Sinek (born October 9, 1973) is a British-American author, motivational speaker and organizational consultant. He is the author of five books, including Start With Why (2009).
Simon is an unshakable optimist who believes in a bright future and our ability to build it together.
Described as "a visionary thinker with a rare intellect," Simon teaches leaders and organizations how to inspire people. With a bold goal to help build a world in which the vast majority of people wake up every single day feeling inspired, feel safe at work, and feel fulfilled at the end of the day, Simon is leading a movement to inspire people to do the things that inspire them.
Simon is the author of multiple best selling books including Start With Why, Leaders Eat Last, Together is Better, and Find Your Why. His new book, The Infinite Game, will be released in 2019.